Following changes to the NSW warranty insurance scheme from 3 October 2017 there will only be 24 brokers who will continue to be able to distribute NSW Warranty.
We are pleased to advise Irecon/Insurance Advisernet Australia is one of the approved distributors under these new arrangements.
For existing customers, it will be business as usual, other than new application forms which can be accessed by clicking on one of the following links:
Project Application All Work excluding Multiple Dwelling
Project Application Multiple Dwelling Projects Only
Builder Eligibility & Profile Change Application
Builder Project Completion Advice
The new forms should be used from now on for all applications.
The second premium increase will also commence from 2 October 2017.
Our previous communications in March of this year provided details of your builder risk based pricing and some insight into these increases.   A summary of the rate increases is set out below.  As each builder now has their own risk based pricing (loading or discount on base premiums) you will need to apply your individual risk rating factor to obtain accurate premium quotations.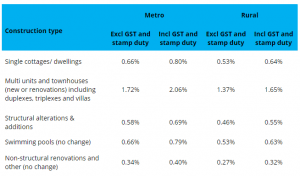 We are working on a new Premium Calculator which will be available on our website shortly.  In the meantime, please call our office for premium quotations.
Thank you for your continued support.  We looking forward to assisting you with your warranty under the new regime.
Please contact Lesley or Robyn on 02 46554311 if you have any questions or require any additional information.